Best Audio Analyzer Vst Plugins of 2022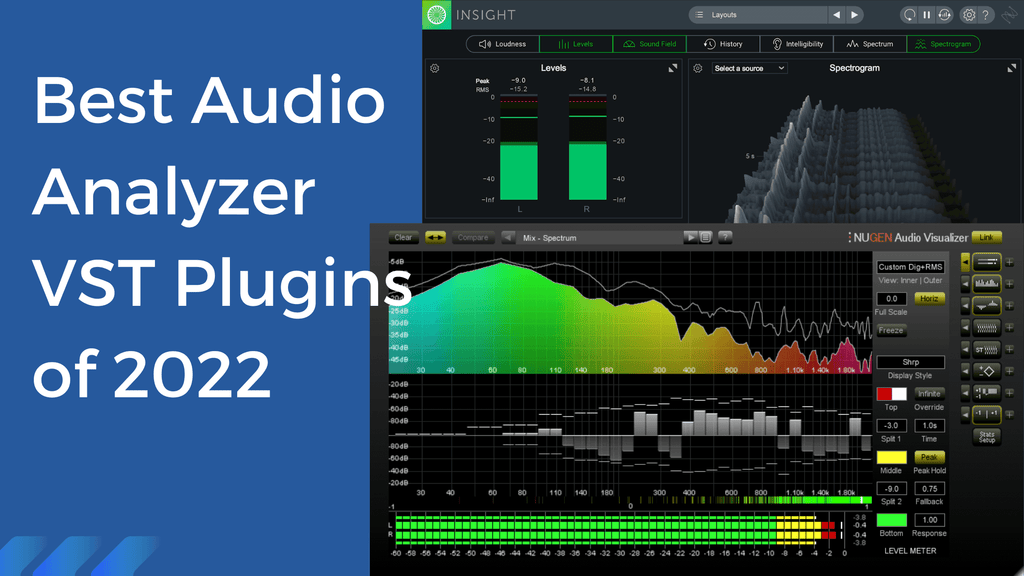 This article talks about the best VST plugins will share our top 10 picks for the best analyzer VSTs. Audio analyzers are integral to music production, mixing, and mastering. They provide crucial and accurate information about the audio that human ears can not perceive. In addition, all audio analyzer provides output in the form of visuals. So without wasting time, let us look at some of the best paid and free audio analyzer VSTs.
How does audio analyzer VST work?
The earlier audio analyzers used a Voltage meter(Voltmeter) to analyze the gain. However, with the advancement of technology and the discovery of Fast Fourier Transform(FFT), audio analyzers have become much more precise and variable. Today, with the help of an analyzer, we can calculate almost all audio parameters viz Frequency, Phase, Level, Stereo Width, RMS and Peak Level, etc.
FFT has played a vital role in the development of modern-day audio analyzers. FFT is an algorithm that makes complex calculations fast. It breaks the audio into individual harmonics, thus giving a fast and accurate spectrum output.
Best Audio Analyzer Vst Plugins For Music Producers
IK Multimedia - Metering Suite
Car Test - Rocket Powered Sound
iZotope - Insight 2
NuGen Visualizer
Blue Cat Audio Analysis Pack
PAZ Analyzer - Waves audio
Expose 2 - Mastering the Mix
Levels - Mastering the Mix
IK Multemedia - Metering Suite
Whether you are working on a solo project or a team of engineers, there are several useful metering plugins for music producers. The meters can be used to check the volume of a song and provide you with information on its peak levels and dynamic response. A real-time analyzer is also useful for identifying any phase or frequency imbalances in your track.
The IK Multimedia - Metering for audio analyzer plug-ins for music producers focuses on loudness analysis, while Sonograph displays the loudness of each frequency over time. There is a powerful LUFS meter in Metering that provides useful information about the Peak, RMS, Short Term, and DR(Dynamic Range) of the audio. All the analyzer units of the IK Multimedia Metering are resizable.
Car Test - Rocket Powered Sound
Car Test by Rocket Powered Sound is a unique audio analyzer plugin. Unlike any other audio visualizer, the Car Test lets you know how your music will sound in a Car. It replicates the stereo output of a typical stereo system in the car, giving important information about the Mids and Sides.
You can also use the plugin to add more depth to the audio, especially the low end.
iZotope - Insight 2
Among the many audio analyzer VST plugins available, Insight 2 is the best. Its resizable interface and comprehensive audio data help ensure that final deliverables sound professional. It communicates with compatible iZotope plugins like Relay and provides precision channel strip functions. It is the best audio analysis VST plugin for broadcast and films.
The Insight 2 audio analyzer aims to provide analysis tools for music producers, broadcast engineers, and video producers. It has various tools for analyzing sound, including real-time color-coded visual monitoring of frequency, loudness standard measurement, spectrograms, and more. In addition to its analysis tools, it also offers custom views to suit your workflow. It comes with a free demo and is well worth downloading for a try.
NuGen Visualizer
Consider NUGEN Audio's Visualizer if you're looking for a multi-purpose spectrum analyzer plugin for music production. This multi-featured audio analyzer can be run on either Mac or Windows. It can display all nine levels at once and display selected elements for each signal. Users can save presets and recall them quickly in different studio scenarios.
It is an excellent visualizer for music producers, post-production, and film and game music composers. Users can choose what they want to see, along with the color pallets and metering modes.
Features of NuGen Visualizer
NuGen Visualizer has a Resizable interface, Intelligent window optimization, and flexible user optimization. Some of the best analyzer units in the plugin are
Stereo spectrogram
Vectorscope
Stereo bias meter
Peak hold control
Correlation by frequency
FFT spectrum analysis
Blue Cat Audio Analysis Pack
The blue cat audio analysis pack consists of 6 different audio analyzers: DP Meter Pro, FreqAnalyst Multi, FreqAnalyst Pro, Oscilloscope Multi, StereoScope Multi, and StereoScope Pro. These analyzers can be purchased as a bundle or as individual units.
The Blue Cat DP Meter Pro lets users customize every aspect of audio Metering. It also has Bob Katz's popular K-System scales, which are very good for recording and mixing. The plugin can analyze mono, stereo, mid-side, and surround sounds. It is also one of the few analyzers in the market that records the crest factor of the audio.
Blue cat FreqAnalyst Multi is a powerful tool for mixing. The best part about this analyzer is its ability to show instant, peak, and average data on the same graph. The plugin supports up to 16 curves. Another great feature of the FreqAnalyst Multi is the option to store up to 4 graphs in memory, making the A/B test possible and mixing much more effortless. In addition, it can compute the difference between 2 graphs, making the mixing process easier.
PAZ Analyzer - Waves audio
Using Waves' PAZ audio analyzer is a great way to get a more accurate idea of the quality of the sound in your mix. It's a convenient real-time tool that lets you see the frequency spectrum and peak levels of each audio track.
PAZ is a highly accurate audio analyzer. It generates a real-time visual representation of the frequency, spectrum, and peak/RMS levels for each track. It's a simple and fast way to get a better understanding of the sound in your mix.
PAZ Analyzer has three different modes: EQ, Phase Control, and Stereo Mode.
Expose 2 - Mastering the Mix
Expose 2 will quickly spot problems in your mix by analyzing your audio files. The tool can detect issues that might not be immediately apparent, such as poor EQ balance, true peak clipping, over-compression, and phase problems. Then, you can get specific guidance on how to fix these problems. Expose 2 will help you create a loud club master, and it will optimize your music for streaming services.
This program is an excellent tool for both novices and professionals, and it offers a variety of features.
Levels - Mastering the Mix
The LEVELS plugin is one of the best audio analyzer VST plugin in 2022. Although this plugin does not have the advanced metering features found in other metering plugins, its simplicity makes it an appealing option for both beginners and professionals alike.
Moreover, you can see how to adjust various parameters by using a simple metering system. Unlike other analyzers, LEVELS uses six types of meters: the peak-current-frequency, the average-frequency curve, the average EQ, and the frequency spectrum. The metering system has a large selection and easy-to-use page layouts.
---