5 Ways to Improve Your Sound Design Skills in Serum, Fast!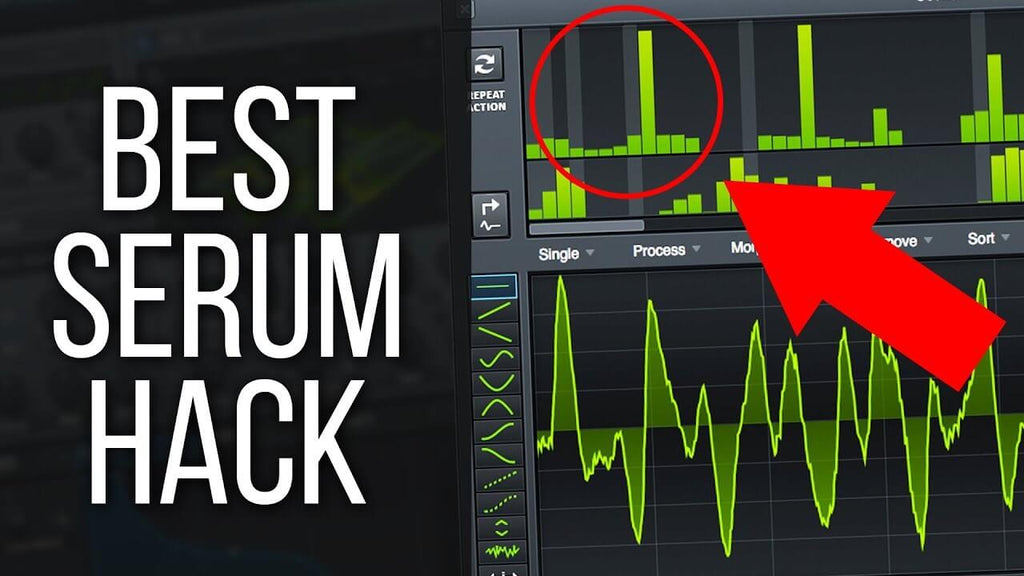 If you are a producer in the music industry, Serum probably needs no introduction. Marketed as the dream synthesizer, Serum has a workflow and music production efficiency, that leads you to unlock new sonic opportunities. However, it is extremely common for the newbie Serum users to get stuck in the rut of learning the interface and its features. Because, on its core, the wavetable synthesizer is a sophisticated sound generator that will have you scratching your head a bit.
Now on to the solution! Serum might have a bit of a learning curve, but it is not impossible to ace. In this article, we will uncover 5 ways that will get you on the sound designing journey via Serum in no time. Being widely appreciated for its enhanced features and sonic capabilities, Serum has huge community support that really elevates the user experience to another level.
So, How to Improve on Serum? The Fast & Efficient Way!
Remember, that Serum is not an extremely complicated plugin, that will make you sweat. Yes, acclimatizing to any new plugin is a task in itself; but these 5 tips are just what you need to accelerate your sound design.
1.      Explore Serum Presets to Jumpstart Sound Design
Building a home from foundation or making renovations to the floor plan; which do you think is easier? If you are a newbie and a beginner in the learning phases, then definitely renovation is the right answer. Likewise, creating a sound design from readymade sound patches is easier than building a tune from scratch. That's why you have presets to help you along the way.
There are many sound design companies, artists, and producers who drop new and amazing sound presets for Serum. There are many high-quality preset packs available on the internet that will make you want to instantly produce a track. Whether you want to unleash the most potent trap and hybrid-inspired bass or add Metallica and melodic influenced sounds, presets make the job easy for you.
Therefore, to jumpstart your sound designing process, explore the preset sounds. Before you make any investment into buying presets, first explore the free-of-cost presets. And let us tell you already that free presets are good as paid ones. If you don't believe us, then check out the high-quality preset packs by Rocket Powered Sound. In the free packs you will find up to 150+ presets that will be perfect to add to your dubstep, trap, and hip-hop tracks.  Download the free presets by Rocket Powered Sound, such as Shutdown Serum Basses pack and Graveyard Serum Basses pack to put your sound design into the gear.
2.      Decode Serum with YouTube
The video hosting platform YouTube will prove to be your perfect abode to learn all the secrets of Serum. As mentioned above, Serum is supported by the community of talented patrons, sound designers, music producers, and artists. All these individuals contribute their knowledge of Serum and music production through YouTube videos. This is your cue to lose yourself into the world serum tutorials available on the internet. Follow the videos and replicate the sounds with a step-by-step procedure.
So, no matter what your Serum-related query is, YouTube most probably has the answer. Some of the most useful YouTube channels for your Serum queries and their solutions are Rocket Powered Sound, and videos from music producers such as, Au5 and Virtual Riot. Whether you want to learn how to make the best Dubstep growls and screeches on Serum, or emulate the sound elements of Skrillex, Illenium, or Marshmello, the RPS channel on YouTube have you covered.
3.      Get Bold with Serum & Experiment
The fastest and most efficient part of getting better with Serum is to get down and dirty with it. Launch the synth plugin and experiment with it. Don't be shy! With its easy-to-understand, intuitive user interface, the workflow, and sonic opportunities are just endless. From making your own customized wavetables to turning images into sounds and applying the sound effects, modulation, etc.; you can personalize and edit the sounds the way you want.
It is an efficient way to learn the tips and tricks to make use of useful Serum shortcuts, LFO hacks, and advanced filters. Additionally, it is essential that you apply that knowledge to practical aspects. Make a simple loop initially and then experiment and tweak the patch to create augmented and amplified sounds. Practice on your own and follow stepwise tutorials. But don't just stick to them, rather deviate and invent.
4.      Opt for A Masterclass, If Self-Paced Learning isn't your Thing!
Every beginner or novice is different. And when it comes to learning such a sophisticated synthesizer plugin, everyone has their own unique learning process. if you are someone who is not comfortable with self-learning the plugin and find yourself stuck in the rut of multiple features and no proper direction, then you need some help to pull you out of the mess. Because Serum is more than just messing with knobs without any real direction.
With Serum, you want to create sounds that will leave the listeners bedazzled and if you are unable to get those exquisite sounds in reality, then investing in Serum is a waste of resources. Therefore, to combat lack-luster sounds and uninspired sound design, you should for a synthesized guided learning Serum class. One of the most effective and highly raved and reviewed options is the Serum Masterclass from Rocket Powered Sound. This masterclass is composed of 6 hours of intense sound design breakdown.
From most secretive tips and tricks to producing the sound from the first step, this Serum Masterclass will turn you into a powerhouse of sound design. Unleash your true sound designing potential by purchasing this high-in-demand masterclass.
5.      Learn from Your Producer Friends
Collaborate and Create! This method is the most hands-on way to improve your Serum skills. To create stunning music productions, you must collaborate and get feedback from people who are from the same field as you. Two creative people can help each to improve and develop consistently. As a beginner in the world of Serum plugin, get in touch with friends who are into music production or connect with the communities online to learn from their experiences, tips, and tricks.
You can try and spend time with producers who are at an elevated level of understanding Serum and observe how they navigate the plugin. Looking into other people's workflow and sound design dynamics while using Serum, can offer an amazing and in-depth perspective. Not only you can pick up their skills and tricks, but you can also avoid the mistake they possibly made in their initial usage of Serum. An effective method of learning Serum through your peers is to get their feedback on your own sound design productions.
Conclusion
Learning Serum is not impossible! Every person or music producer has a unique way of acing the plugin. While some may get better with practice and experimentation, others might require assistance such as Masterclasses and YouTube tutorials. Therefore, this article presents you with multiple ways to master the sound skills on Serum as fast as possible.
by
In the neighborhood of, close to
More (Definitions, Synonyms, Translation)
---