How To Install Xfer Serum Easily (Ultimate Guide)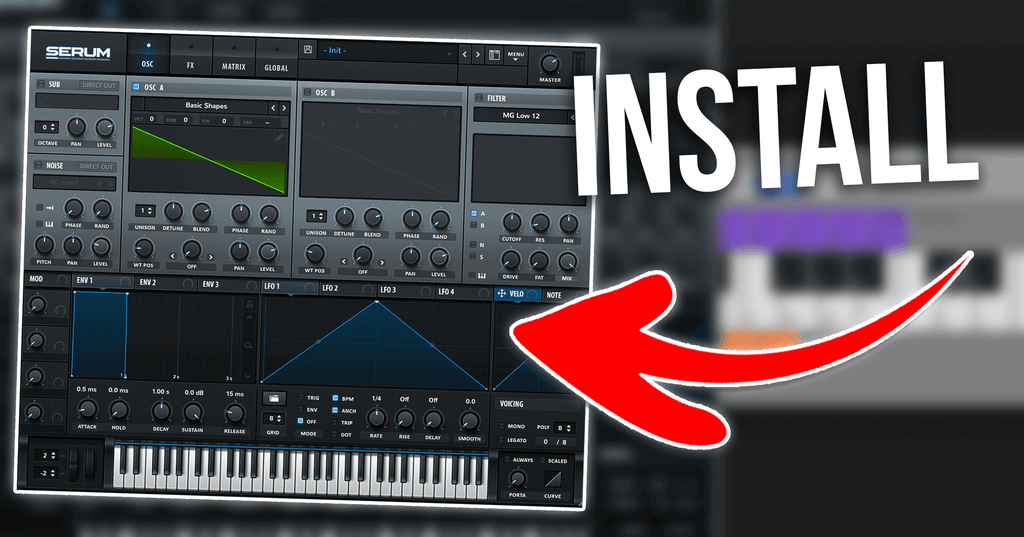 Before 2014, Massive was the go-to synthesizer for every music producer. But in 2014 came the all-powerful dream synth, Serum from Xfer Records and it remains to hold its position. Not only is it a high-performance wavetable synthesizer, but it also lets you create the most insane and intricate sounds with ease. This popular VST synthesizer is the weapon of choice for most popular EDM producers, such as Jauz, KSHMR & Marshmello.
With its easy-to-use UI, Serum is designed for both beginners and professionals alike. Therefore, Serum is worth the investment no matter what skill level you have. The endless range of versatile features on Serum elevates your music production to uncharted territories. So in this article, you will get to know how to install this plugin into your DAW.
The Conception of Serum
Before the release of Serum, most producers solely relied on Native Instruments synth "Massive". Serum is designed by the highly acclaimed music producer, Steve Duda. Steve is a software engineer and has some of the most popular VSTs to his credits including Nerve, LFO Tools & Cthulhu. It is safe to say that Steve's industry experience and collaboration with music giants like Deadmau5 and others made an impact on the conception of Serum.
What Makes Serum So Effective?
We cannot rave enough about the high-quality features that make Serum one of the best synths on the market. Therefore, this section will help you discover the perks of Serum and what made this VST synth an industry-standard in such a short time.
For starters, Serum is a forward-thinking wavetable synthesizer. It has dual oscillators along with sub and noise oscillators that bring a new flexibility to designing your sound.
It also comes loaded with 144 built-in wavetables and up to 450 presets. Additionally, you can also install external presets and sound libraries within Serum. We highly recommend downloading our free packs here.
Serum's popularity also gained spike due to its visually effective graphic user interface. It's a highly intuitive UI with 2D & 3D visual mode for wavetables.
While there are is so much to reveal what makes Serum a powerhouse VST, it is beyond the scope of this guide. You must experiment with the features on Serum to discover its brilliance.
The Comprehensive Guide to Installing Xfer Serum
Installing Xfer Serum into your DAW is an easy process. All you have to do is follow the easy guides to successfully install this VST plugin. However, as a beginner level producer before you invest, we recommend that you first try the Serum demo. This will allow you to make an informed decision.
How to Get Serum
Before installing Serum, you have to buy Serum first. There are two ways to get it. The first method to get Serum is to get it directly via Xfer Records website as a completely paid off version or a demo. Although, you must know that the demo version only lasts up to 15 minutes to give you a taste of what's to come.
Another way to get Serum is via Splice, which is a cloud-based platform for music creation. Xfer has partnered with Splice to distribute Serum on a rent-to-own basis. This second method is perfect for those users who cannot pay the full upfront price to get Serum. Although, you must remember that with the Splice rent plan, you must keep the Splice application on your system to run Serum. Once the installment payments are complete, Splice will send a licensing key for Serum via email.
How to Install Serum from Xfer Records
Here is the method to get Serum plugin from the Xfer website directly.
Access the Xfer records website and either purchase the plugin for full price or opt for the demo version.
The installation method is simple. Download the Xfer installer from your account and run the program following the step-by-step instructions.
Once Serum is installed, you can integrate it on your DAW and enter the licensing key that you have already purchased or once the demo ends.
How to Install Serum from Splice
Follow this step-by-step guide if you want to Splice to download and install Serum via rent to own method. This is a beginner-friendly and affordable solution to get the VST plugin.
Through your web browser, access the Splice and download the Splice app on your system.
Once you have the application on your system, sign up on the app, which will lead you to a homepage.
On the display, click on the option 'Get Plugins,' which will reveal the list of available VSTs, including Serum.
As you click on Serum icon, it will start the downloading process on your system, launching into the Xfer installer.
Once you start the installation process, a select menu window will open, giving you the option to download 32-bit and 64-bit plugin and preset component. You can select either all four available options or choose the ones based on your preference. Download the program in a destination folder of your choice.
Once the installation is complete, you have an up-to-date Serum plugin on your PC.
How to Integrate Serum with DAWs
If you followed the instructions for the installation process from the previous section, then you will find the VST on your system. But to run Serum successfully on your system, the most essential step is to integrate the plugin on the DAW you are using. So, let's get to that.
Integrating Serum in Ableton Live
If you are a user on Ableton Live 10 workstation, then to add serum, the first step is to launch the program.
It is common for Ableton to automatically scan the downloaded plugin. Therefore, first, from the selection menu lookup Plug-ins that will lead you to the list of VST you have on the directory and search for Serum on it.
When you find the VST, just click on it and it will lead you to the Serum plugin. Click on it to launch the Serum editor.
If in case, Ableton has not automatically rescanned the downloaded plugins, then follow this method.
Quickly go into the Ableton 'Preference' menu and select the plugin tab from the pop-up window.
All you have to do is select the 'Browse' option for the VST Plugin custom folder and select the location where you store all your plugins including Serum.
Hit rescan to find Serum in your plugin list, and you are ready to experiment with sounds.
Integrating Serum in FL Studio 12
The integration of Serum in FL Studio 12 is also a straightforward method. Once you have successfully installed the Serum on your system, follow the steps given below.
Launch FL Studio on your system and navigate through the menu of 'Option,' wherein 'System' tab you will find 'Manage Plugin.' Clicking this option will open a window.
The Plugin manager window has two panes. On the right side, there is a plugin directory, whereas, on the left side pane, there are various settings options.
Select the option of 'Plugin search path' and add the folder where you have installed Serum. Once you select the destination folder where Serum is already installed, click the Start Scan tab. Following this, you will find the Serum plugin in the FL plugins directory.
Conclusion
Are you passionate about a career in music production and wish to elevate your sound with a versatile wavetable synthesizer? Then the Serum plugin is exactly what you should add to your music production arsenal. In this comprehensive guide, you have all the information that is required to install Serum on your Windows or Mac system. This guide will get you started on your Serum journey.
Free Serum Presets That You Can Download Right Now
There are as many useful free of cost presets for Serum available as there are the paid versions. What's amazing is that whether free or paid, the Serum presets are high quality and have optimal performance. Here are a few options of free presets that you try and install in your Serum directory.
150+ Free Serum Presets From Youtube Tutorials: Download Here
Shutdown Serum Basses Pack: Download Here
Graveyard Serum Basses Pack: Download Here
---