Serum vs Sylenth1 – Which is Better?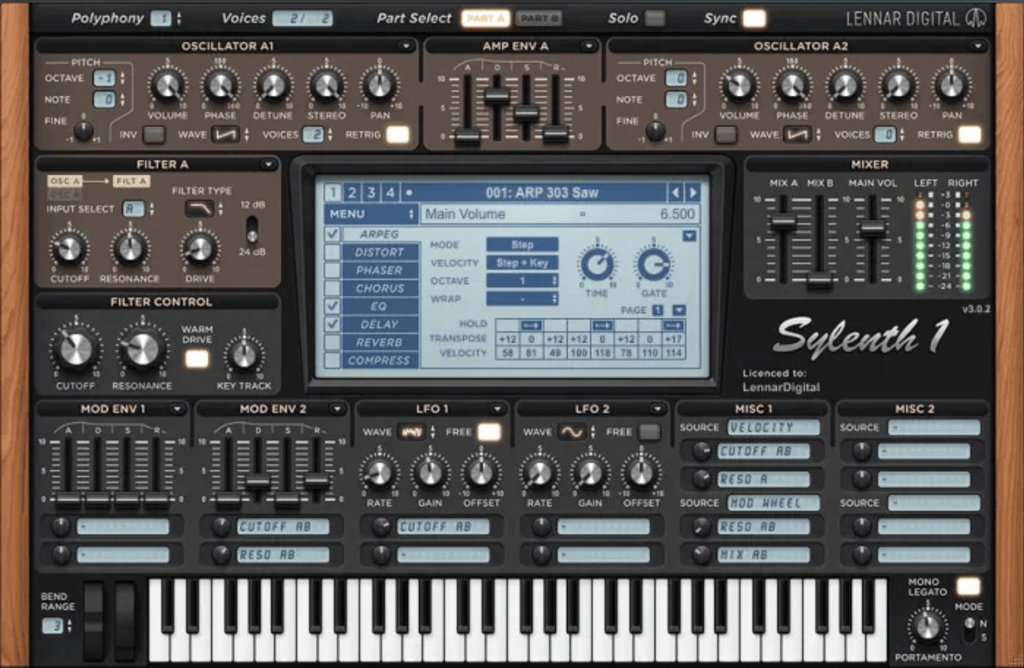 The first ever VST (Virtual Studio Technology) was built in 1996, named Neon. Since then, countless software synthesizers came and conquered the market. Some are still available and loved, while other have been diminished forever.
Due to the countless number of VST software synthesizers, it's hard to find out the best one. Everyone wants to purchase that VST software that's worth spending money on. There are two famous plugins named Serum and Sylenth1 in the market capturing attention.
Serum is the flagship synth by Xfer Inc. (Formerly known as Xfer Records) and Sylenth1 is owned by Lennar Digitals. Without any doubt, both of the VSTs are amazing and helpful in creating impressive sounds in your music. However, some differences make one better than the other.
After all, it's all the value for money that wins the game! So, here is a head-to-head comparison of both the synthesizers, guiding you which is better and why?
Pricing
We all know that exceptional things come with a price. Free ones are compromised versions that never produce the expected results. Therefore, both Serum and Sylenth1 do not come cheap, but offers features that are hard to resist.
Xfer Serum and Lennar Digital's Sylenth1 are advanced wavetable synthesizers. Sylenth1 was released back in 2007, whereas, Serum came into existence in 2014. However, their prices are not too different from each other. Xfer Serum costs USD 189.00 only. Whereas, Sylenth1 costs €139 which makes USD 195.00 approx.
If you are a person who believes in self-test and evaluation, then get the demo versions of both. Yes, you can get a free trial download of Xfer Serum and Lennar Digital Sylenth1 before you finalize your decision.
Interface
The layout or the GUI is typically the visual part. It is not just an appealing part, but also a crucial section of the plugin. If the interface of the synthesizer is easy to understand, it directly affects your productivity. However, if the GUI is complex, it will take time to have your hands set to it.
·        Sylenth1
The GUI of Sylenth1 is more like an analog synth. It lacks visual feedback, which can be an issue for naïve users. If you are already familiar with its sound design, then it won't matter much. Due to the lack of visual feedback, beginners find it challenging to figure out the function of each knob. Lennar Digitals provide a solution for this problem! You can install a customized Sylenth skin to make it more prominent and understanding.
·        Serum
Xfer Serum on the other hand comes with fascinating visual feedback. Even when you are adjusting the LFO, envelope, waveform, or filter, you get visual feedback instantly. For the experts, this difference doesn't make much concern. However, beginners love it due to its helpful layout and user-friendly GUI. With workflow features, you can also reset the parameters as per your liking. With many tips and tricks, Serum becomes easy, comprehensible and exciting for everyone.
Functionality
The biggest and visible difference between both the leading synthesizers is found in their overall functionality and features. Lennar Digitals Sylenth1 is perfect when it comes to making basic sounds for simple music. However, Xfer Serum is a true partner when it comes to complex tune and melody for a musical piece.
·        Oscillators
The Sylenth houses 4 basic alias-free unison oscillators that generate analog-shaped waveforms. Each oscillator is capable of producing 8 unison voices, in full stereo mode. Sylenth1 oscillators can nicely perform in very low and extremely high pitches.
Serum, on the other hand, features 144 different wavetables. Each wavetable consists of 256 waveforms. Serum also allows its user to import third-party wavetables that are editable. The OSC in Xfer Serum comes with 22 wrap modes that empower the modulation of waveforms in real-time. You can use PNG images as well in Serum.
·        Modulation
For Sylenth, there are 2 envelopes and 2 LFOs that can modulate to set at different parameters. Next to these are 2 extra Misc. sections where you can adjust envelope amplitude, velocity, etc. Sylenth has basic parameters like resonance, cutoff, and pitch. It's limited to 11 basic shapes only.
Serum has 3 fixed envelopes, 4 LFOs that are expandable up to 8. With Serum, the user can use 8 different shapes, all at the same time. It has advanced parameters such as Chaos, NoteOn Random, etc., boost the feel of the sound to the maximum level.
Effects
Effects are a vital part of a synthesizer engine. It adds different rhythms to your sound that boost its melody and adjusts its beats.
Lennar Digital Sylenth comes with 7 effects and an arpeggiator that consists of 10 different melodic modes.
Xfer Inc. Serum on the other hand comes with 10 mesmerizing effects that promise to upbeat your musical masterpiece.
Need to know more? Here are the names of the quality effects both synthesizer platforms provide to their users.
| | |
| --- | --- |
| Xfer Serum Effects | Lennar Digital Sylenth1 Effects |
| Hyper/Dimension | Arpeggiator |
| Distortion | Distortion |
| Flanger | Phaser |
| Phaser | Chorus |
| Chorus | EQ |
| Delay | Delay |
| Compressor | Reverb |
| Reverb | Compress |
| EQ |   |
| Filter |   |
·        Sound
Until now, it's quite proven that Serum is value for money software synthesizer. However, is the sound the same as that of professional VST?
Sylenth1 is known for its warmer tone. You can easily make analog sounds with it using its oscillator. Music producers love Sylenth when they are looking for warmer and deeper notes for their music.
Serum on the other hand is famous for its untouched, unique, clearer sound output. Sound producers who love pristine and crispier tone prefer Serum for their musical masterpiece creation.
But which is better when it comes to sound? This is a draw with no definitive winner. Both the synthesizers are great, producing quality tone and harmonic melody. However, with extra effects and OSC, there are visible chances of greater musical opportunities with Serum.
·        Filters
Lennar Digital Sylenth1 offers state-of-the-art filters. It has 2 top-notch analog sounding filter sections. These sections consist of 4 filter stages with nonlinear saturation. This is where you can adjust the warmth and depth of the sound you are producing. With the resonance control, you can turn up the level to magnify the oscillation and combine it with drive controls. This gives the filters the chance to modulate the tune as per your liking.
Xfer Serum is undoubtedly not behind at all. It includes a single filter section that offers high passes, low passes, and band notches. With the multi menu, you can create a combination of high/low passes. It has a Flanges menu where unique sounds can be adjusted to hype up the melody being produced. The Keyboard Pitch Tracking follows the notes that are being pressed during the making of the sound.
The Final Verdict
It's quite clear that Xfer Serum beats Lennar Digital Sylenth1 in every possible aspect. However, Sylenth1 is a genuinely great sounding synthesizer. The thing is, it lacks some advanced features that Serum has, making it vulnerable towards it. Serum is easier to understand, whereas, Sylenth is technical with a lack of visible feedback. This makes it a weak contender at least for naïve and beginners.
Lennar Digital Sylenth1 is perfect if your preference is warmer tones, deeper beats, and classical melody. If you are fine with the lack of visible feedback then Sylenth is a great partner for music production.
However, if you can't resist the visible feedback feature and miss its genuine integration into your music, then Xfer Serum is unbeatable. Its crispier, tonal vocals, jazzy sound effects are sure to add rhythms, melody, and groove you love to add to your musical piece.
Both of the synthesizers are advanced and incredible to work with. It's your preference that makes them different from each other. Choose wisely as the final decision is yours!
---