Serum Vs Phase Plant: What's the Difference?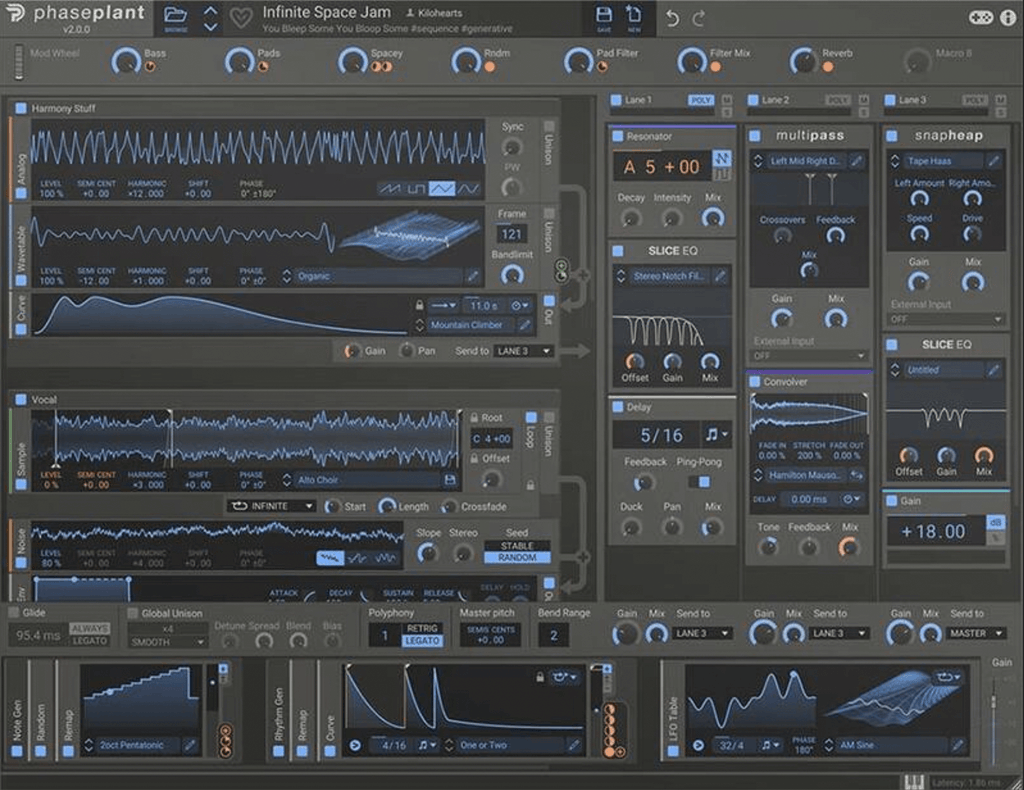 We are living and breathing in one of the greatest times for music producers. Why? Because we are at the apex of tech and software. The same is true for advancement in sound design software and music production. At this very time, music producers have plenty of options when it comes to the Synth VSTs. This includes Massive, Serum, Phase Plant & Vital, among many. All of them a true maverick in terms of performance and functionality. However, does that mean, that each one of these plugins are the best? No! Each one of the VST plugins has its own set of features that makes them stand out, but they each also have some limitations as well.
In this article, we are going to compare the two synths plugins, Serum & Phase Plant that are constantly pitched against each other as competitors. Let's look into the world of Serum and Phase Plant to analyze what are the aspects that make both plugins stand out and stand apart from each other. 
What Is Serum & Phase Plant?
Serum was created by Xfer Records in 2014. Designed by Steve Duda, the acclaimed sound designer, and producer, Serum is an all-in-one wavetable synthesizer that encompasses a range of electronic sounds. With its efficient workflow, sound editing features such as, LFO parameters, presets, and Fx; Serum materializes every sound that you can imagine.      
Whereas Phase Plant, marketed as the new generation of synthesizers; it is released by a Swedish company, Kilohearts. This modular synth allows you to create complex sound designs with features such as sound generators, effects, and flexible modulation and envelopes.
Both of the above-mentioned synth plugins are marketed as the best of their lot. While Serum has become an industry-standard; Phase Plant is on its way to lay the claim on being the best VST out there. Phase Plant is marketed as the 'Serum Killer' and the buzz around the debate that which synth is better has been quite exaggerated. To tell you the truth when Serum was launched it was also touted to be the one that would replace Massive, once and for all. However, we believe that each one of these powerful synths are irreplaceable. Why? Because each one of these synthesizers has its own client-base and the rest is just marketing gimmicks. Neither Serum expelled Massive from the market and nor Phase Plant will take over Serum.
Comparison of Serum & Phase Plant
Reddit and music community forums are nowadays filled with the queries as such, "Should I buy Serum or Phase Plant?" or "Which is better? Serum or Phase Plant?" The simple answer is that no one can tell which synth plugin is best or right for you. However, we can strip down the basic differences and features of both plugins to help you make the final decision. This section will create a comparison and contrast between Serum and Phase Plant.
What's Similar?
Before you get to know what distinguishes Serum and Phase Plant, you must know what's the common link between the two plugins. Serum and Phase Plant are used as complex sound design generators and principally both are wavetable synths to alter and edit the sound.
Price
Let's compare the price point of both plugins first. There is a negligible price difference between both plugins, as Serum costs $189 and Phase Plant rounds up to $169. Both synth VSTs offer a trial and rent-to-own payment plan.
Interface
One of the most important and sellable aspects of plugins is their interface and UI design. Serum is highly raved for its visually attractive Interface with various tabs to switch between oscillators, sound effects, and matrix panel. The systematic layout of Serum is quite helpful for an efficient workflow. The different parameters and features arranged in a logical layout make Serum extremely user friendly, experimental, and intuitive as well. Additionally, hovering the mouse over any parameter explains its functionality, which is quite helpful.
The interface of Phase Plant is starkly different from Serum. The UI on Phase Plant is hyped for its blank canvas. Unlike Serum that has predefined layout sections, Phase Plant offers a scale-able interface. The customizable modules allow the users to set up their own patch. Everything in the Phase Plant interface is visible on a single screen without any tabs, which professional producers find extremely appealing. Its UI has three sections, i.e., sound generators, modulators, and effects.
Overall, based on interface design, Serum allows a beginner-friendly ecosystem, whereas, Phase Plant gravitates towards advanced and professional producers.
Features of Serum & Phase Plant
Now we're getting down to a comparison of what both plugins offer in terms of features and workflow highlights.
Sound Generators
The sound generation section in Serum comprises dual wavetable oscillators (A & B) along with a sub and noise oscillator. The multifunctional wavetable allows Serum to act as a sampler and wave machine as well, boosting your sound design to emulate complex and unique results.
Phase Plant is a hybrid synthesizer; therefore, it expands to FM synthesis, wavetables, three types of noise generation, sampling, digital and analog modeling. With Phase Plant you can add as many sound generators as you want in the module, there is no built-in limitation to that. As long as your processing unit does not affect the performance you can add wavetables, samples, analog and noise oscillators up to your sound design requirements. The wavetable synths in Phase Plant have customized editor to alter harmonics and frequency spectrum.
What's interesting is that Phase Plant includes distortion and modulators at the sound generation level, which opens a huge avenue of sonic possibilities. Whereas, in the sound generation section both Serum & Phase Plant have LFOs and envelope parameters.
Wavetables
Serum and Phase Plant both allow you to draw and customize wavetables as you want with additive synthesis. However, there is a distinct feature with wavetable that is unique to both the plugins. With Serum, you can convert any image into a wavetable and a sound sample. Whereas Phase Plant allows you to apply any sound effect right into your wavetable. Additionally, this plugin gives you a whole section of wavetables for growls, screams, and morphs.
The wavetables on both Serum and Phase Plant offer a unique and intricate dimension to your sounds.
The Sound Effects
The sound effects for Serum are situated under the tab Fx, whereas, in Phase Plant, there is an effects lane in the interface. Serum comes with a fully built-in effect rack that includes 10 different sound effects. Serum Fx tab includes various customizable parameters to alter the effects. You can easily add distortion, phaser, flanger, compression, delay, reverb, chorus, or EQ to your sounds. Additionally, Serum also lets you modulate these effect parameters easily.
The effects section on Phase Plant has three lanes with six basic effects. These three lanes can control a variety of sound effects at once. The plugin is compatible with Snapin effects which is Kilohearts' most popular 28-effects bundle. However, these effects are only available if you have purchased them separately. The Poly mode is the highlighting feature of Phase Plant effects that adds unique synth quality to your sounds.
Modulation
The modulation panel on Serum is amazing, as it includes 4 LFos, that can extend up to 8, 3 Envelopes, and 4 Macro controls. The flexible modulation allows to you modulate the oscillators up to 100 Hz. The modulation panel allows you to add a unique level of dynamism to the sounds you are creating.
The modulation section in Phase Plant allows you to easily customize and draw the shapes in the envelopes to emulate a whole different range of sounds. However, the modulation frequency of Phase Plant reaches up to 50 Hz only.
Despite the differences in the modulation section of Serum and Phase Plant, the variety of modulation destinations add an incredible movement to your sounds.
Presets
The preset library on Serum and Phase Plant is without a doubt stunning with 450 and 400 presets respectively. The only difference of presets is the amount, however, none of the plugins compromise on the quality. With such a huge library of presets, you can easily edit and manipulate the sounds according to your liking. In terms of organization, Phase Plant provides a huge array of bass selections with various other genres.
Conclusion
Serum and Phase Plant are both marketed as the 'Dream' synths that are meant to elevate your sound design to the next level. However, based on the interface and various parameters discussed above, we can conclude that if you are making the first-ever purchase of a synthesizer plugin, then invest in Serum. As an established plugin, Serum offers huge community contribution and support. However, as a professional and elementary level music producer, you will enjoy the workflow of Serum & Phase Plant both.
---